How to use specialized outpatient services for foreign citizens resident in Italy registered with the National Health Service
D. Lgs. n 229/99 (art. 8-bis and following articles)
The SSN prescription written by the General Practitioner, the General Paediatrician and the Specialist is a document that allows the patient to use health services delivered by the National Health Service (Servizio Sanitario Nazionale – SSN).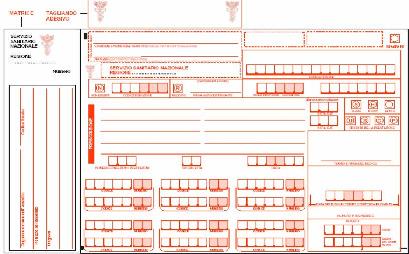 - It contains all necessary data to establish the prescription charge (ticket) the citizen have to pay or his right of exemption from payment.
- In case of exemption - concerning pathology, disability, motherhood, early diagnosis and prevention – only the General Practitioner, the General Paediatrician and the Specialist can write the right of exemption from ticket payment when filling out the prescription with the relative code.
- If the citizen does not have the right of exemption, the Physician marks the letter "N" (not exempt).
- If the prescription does not report all information about the exemption, it will be too late for complaining at the front office!
- Consequently it is necessary that the patient points out the exemption to the prescriber Physician before the prescription is issued, since it is not allowed to bring then following changes to the prescription.

- It is compulsory that the prescription contains working diagnosis written by the prescriber Physician.

- In case of exemption for age and/or income, when using the services required it is necessary to write a self-certification filling out the proper form in a complete and readable manner and sign it on one's own responsibility. The self-certification can be written by the person concerned (holder of the prescription), alternatively by the spouse or a relative in a direct/collateral line up to the third degree, specifying beside the signature the degree of relationship (Direct line: children/parents/grandchildren/grandfathers/great grandchildren. Collateral line: brothers and sisters/nephews and nieces/uncles and aunts).
In case of minor or unable, the self-certification can be underwritten only by the parents and/or by the guardians having the responsibility.
The National Health System Card/Tax Code Card is a personal card issued in Italy by the Revenue Agency for all citizens with the right to use the National Health System services.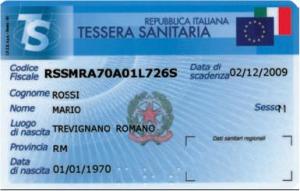 - It replaces the previous tax code card

- It represents an identity document required by Public Administrations and Local Authorities.

- It is also valid as European Health Insurance Card (EHIC) and it can be used in all European Countries.

- The health card allows the bearer to avail of the health services delivered by the National Health System in Italy.

- It is required to show the card together with the SSN red prescription when requiring drugs or specialized services.
- When an exemption is to be certified it is necessary to show also the Health Record Book (Libretto Sanitario) issued by the Local Health Authority (Azienda Sanitaria Locale - ASL).
The Health Record Book is a document issued by the competent ASL.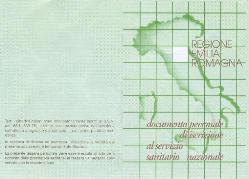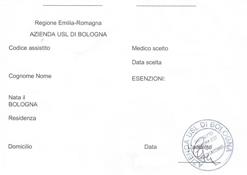 It certifies the citizen's subscription to the National Health Service.
It containts:
- personal data
- the patient's code which is assigned automatically by the Region identifying the patient
- the name of the family doctor (GP)
- the code of exemption from the ticket if needed
- the exemption code do not always guarantee the right of the complete exemption for all the services required.
D. Lgs. N. 124/1998, D.M. n. 329/1999, D.M. n. 279/2001, DM. n. 296/2001, Circolare Ministero Salute n. 13/2001
Ticket Payment/Collecting Medical Report

In case the citizen fails to pay the ticket when booking health services, he has to pay then for it when availing the services required. The citizen can exceptionally pay the ticket before collecting the medical report for some services whereof the medical report is delivered and referred through the time.
If medical reports are not collected within 30 days after the service is delivered they will send to the Local Health Authority (ASL) the citizen belongs to. The Local Health Authority will then charge the citizen, including the citizen exempted, with the entire fare for the health services used.
Art. 5 comma 8 L. 407/90 e art. 4 comma 18 L. 412/91